Gangrene Treatment in Pune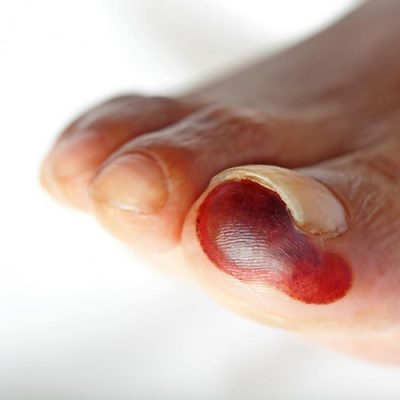 Peripheral Vascular Disease (Gangrene/ long-standing nonhealing foot wound) -
Gangrene is blackening of toes/foot/leg/hand due to decreased blood flow because of old blocks in blood vessels. Dr. Hemant Chaudhri is provide one of the best Gangrene Treatment in Pune.
Any wound or gangrene requires adequate blood flow for healing. So, just cleaning of wound or cutting gangrenous part will not be sufficient and would rather result in bigger wound/ spreading of gangrene and ultimately loss of limb (Cutting off the limb), unless blood flow is improved.
Diabetic Age > 45 years
Hypertension
Cardiac patients
Smoking
Gangrene/blackening of toes/fingers/foot/hand Nonhealing foot ulcers

Rest Pain-Severe pain in toes/foot disturbing sleep Pain in leg, thigh, and buttock on walking
Vascular surgeon being leg/hand saving surgeon, offers two modalities of treatment to increase blood supply to wound/ gangrenous limb viz
1. Angioplasty and stenting -It is advanced endovascular procedure. With single puncture in groin, wire with a balloon is passed through the blood vessel and block is opened by inflating the balloon. Sometimes stent (metal mesh) is deployed at block site. Advantages- no cuts, no pain and patient can walk from next day.
2. Open bypass surgery– Surgical procedure in which arterial blocks are bypassed with vein or artificial tube.